Kinka Family restaurants & café serving specials and hosting events all summer
Kinton Ramen, Kinka Izakaya, Ja Bistro, and NEO Coffee Bar are offering delicious special menu items
Kinka Family chefs have created monthly specials for the summer offered at each of their restaurants and at NEO Coffee Bar, along with a lineup of events.
The 2019 KINKALICIOUS event from July 5 - 21 also presents the opportunity for guests to experience prix-fix menus at Kinton Ramen, Kinka Izakaya, and JaBistro.
The Kinka Family restaurants also have some exciting news: Kinton Ramen and Kinka Izakaya will be opening at One York Street, Toronto in August.
KINTON RAMEN
June Specials
Chilled Tsukemen, an annual fan favourite ramen, featuring thick noodles with pork shoulder and a side of quail egg

Roast Beef Ramen, a tender sirloin beef roast with onsen tamago (Japanese style soft boiled egg)
KINKALICIOUS (JULY 5 - 21)
Prix fixe menu: $19.99/person
Includes: ramen (pork, chicken, or vegetarian), Komi Chicken (fried chicken with ginger and leek "Komi" sauce), and ice cream (Matcha Ice Cream or Kurogoma Ice Cream)
July Specials
TBC
Locations: Available at all Kinton Ramen locations, with 10 convenient restaurants across the GTA. @kintonramen
KINKA IZAKAYA
June Specials
Wasabi Vinaigrette Ceviche, assorted sashimi lightly marinated in wasabi soy vinaigrette

Hiyashi Kamo Udon, featuring chilled udon noodles in a cold clear shoyu dahsi broth topped with sous-vide duck breast

Sizzling Buta Kimchi, a stir-fried pork dish with kimchi, bean sprouts & chives
KINKALICIOUS (JULY 5 - 21)
8 course prix fixe menu: $29/person
Includes: sashimi platter, gyu shabu salad, angus beef yukke, kinoko bibimbap, fry platter, kakimayo, matcha ice cream
July Specials
TBC
Locations: available at all locations, with 3 Toronto restaurants (Church Street, Bloor Street, and North York). @kinkaizakayato
JaBistro
KINKALICIOUS (JULY 5 - 21)
5 course prix fixe menu: $77/person
Includes: soup (lobster miso or chicken miso), starter (hokkaido salad or carpaccio), main (lobster croquette or bacon wrapped katsuo), sushi (nigiri or aburi), and dessert ( hojicha brûlée or mochi ice cream)
Location: 222 Richmond St W, Toronto @jabistro222
NEO COFFEE BAR
Yuji, the Pastry Chef, has turned a French classic into NEO style. A flaky light choux ring sandwiches airy white chocolate pistachio mousse, fresh strawberries, and crunch graham cracker crumbs.
June Special
Pistachio Paris Brest, a buttermilk choux ring filled with white chocolate pistachio mousse, strawberry & graham cracker crumbs
July Specials
NEO Mocha Affogato, a vanilla soft serve ice cream with molten chocolate & fresh mint served with NEO BLEND espresso & crunchy almond biscotti

Kyoto Matcha Affogato, rich matcha green tea and vanilla soft serve ice cream, shiratama mochi & red bean paste served with matcha green tea & sesame crackers
Soft serve matcha ice cream and vanilla ice cream on a cone will also be available starting in July.
Location: 100-161 Frederick St, Toronto @neocoffeebarto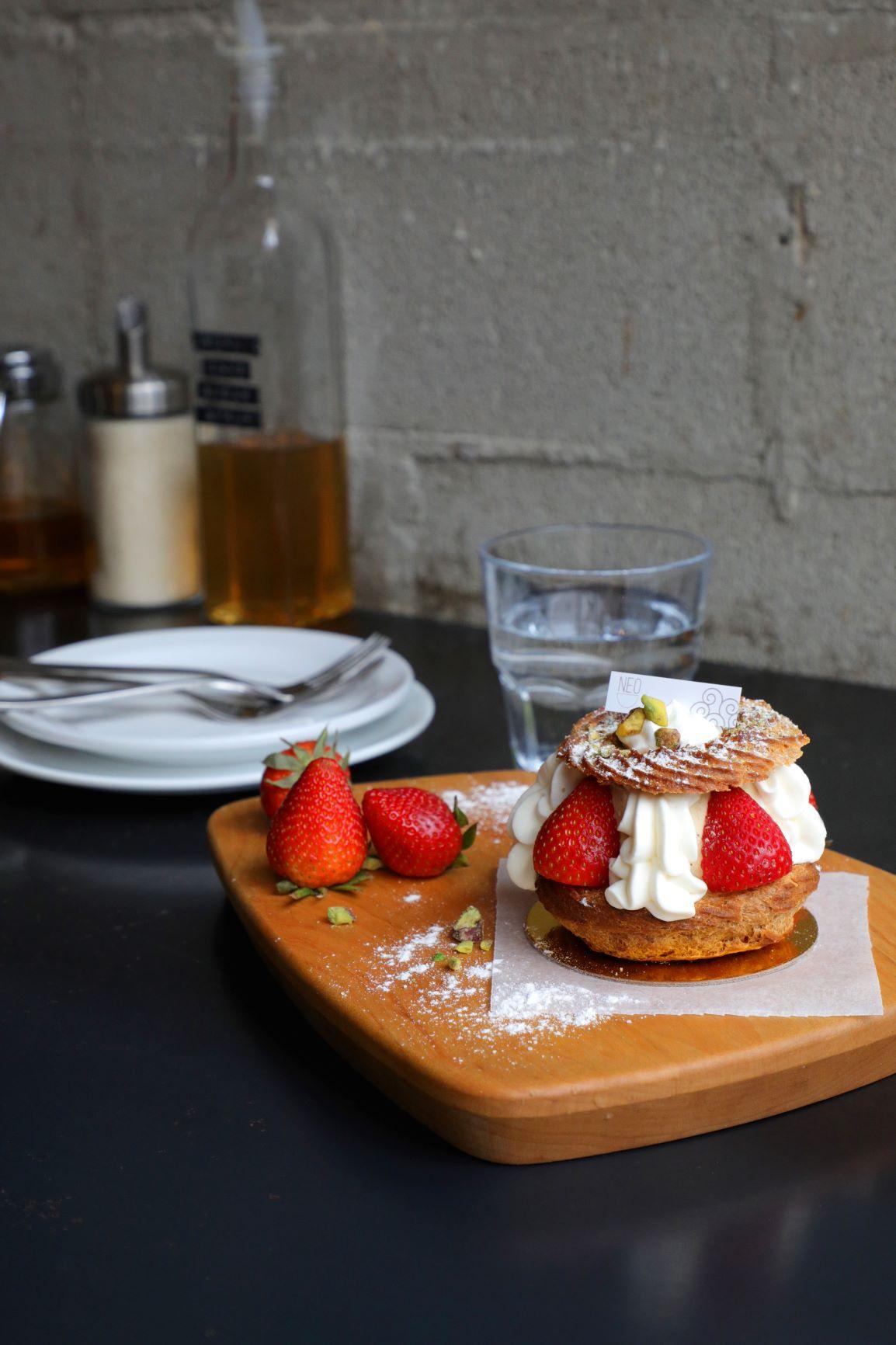 UPCOMING KINKA FAMILY EVENTS
NEO COFFEE BAR POP-UP
June 16
Location: AESOP Queen West, 880 Queen St W, Toronto, Ontario
NIGHT IT UP!

July 12 - 14
Location: Markham Civic Centre, 101 Town Centre Boulevard, Markham, Ontario
Admission: FREE

Kinton Ramen will be participating in Night It Up!, an outdoor festival showcasing Asian foods complemented by local talent performances.
The following items will be available at the Kinton Ramen booth:
Hiyashi Chuka (cold ramen) $5

Spicy Jalapeno Hiyashi Chuka $5

Karaage skewer $5

Takoyaki skewer $5
NEO COFFEE BAR: 4TH ANNIVERSARY
August 1
Location: NEO Coffee Bar, 100-161 Frederick St, Toronto, Ontario

JAPAN FESTIVAL 2019
August 24 - 25
Location: Mississauga Celebration Square, 300 City Centre Dr, Mississauga, Ontario
Kinton Ramen will be a part of Japan Festival 2019, the 90th Anniversary of Japan Canada Diplomatic Relations celebration in Mississauga.

Jesika Arseneau Publicist at The Knot Group